Most of the 22 paintings are in Private Art Collections.
This body of work has traveled to numerous colleges, universities, and small museums.
Different Shells, Same Egg
Different Shells, Same Egg II
Embracing Diversity
The hands are holding egg shells of a
different color than their skin.
Fear of Diversity
The hands hold the same egg color as their skin.
Ignorance of one another leads to fear, to hatred,
and then sometimes to bloodshed.
This may be as large as a world war or as small
but lethal as gang warfare.
Different Shells, Same Egg / Gold
Coffee and Humani-Tea
This painting is about economics.
Coffee and tea are enjoyed universally
though served in very different vessels.
Coffee and Humani-Tea, Time
Coffee and Humani-Tea, Reali-Tea
Humani-Tea : Hands
DETAIL
ARTIST'S COLLECTION
A Toast to Freedom
Beverages of a few various ethnic origins
representing people in the free world
America the Flavorful
Desserts of different continents
Ceres Gallery, National Art Competition
NYC
Pie a la monde
The dessert on the right of the canvas is called
a 'black and white' pie. The torte on the bottom left
has fruit of various continents.
A Theory of Relativity
The desserts in this six foot acrylic are enormous.
The eggs are actual size. Our judgement of another
is often distorted by our own experiences.
Traditions
Two decades ago Sushi was relatively unknown
in North America. Now it is a favorite in the U.S.
Handling the Fruits of Diversity
6' Acrylic
Solo Exhibit (PCA) and the painted
traveled to various university galleries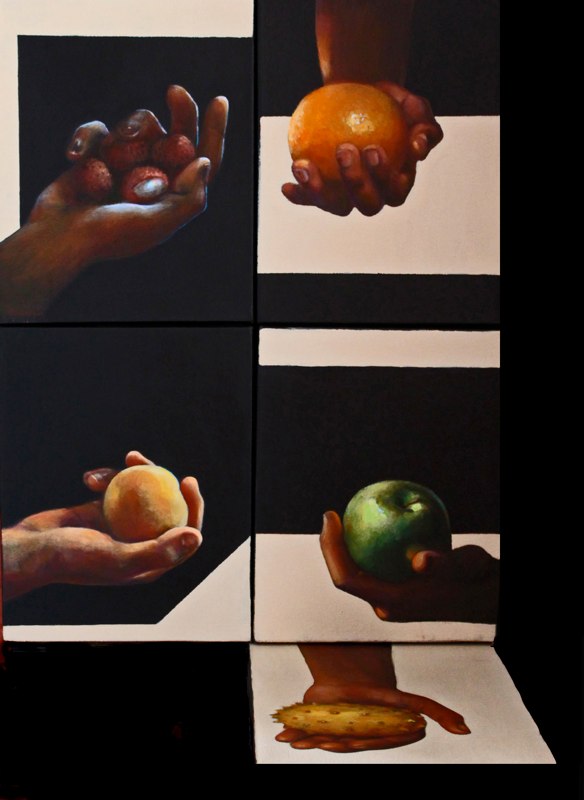 Handling the Fruits of Diversity
NAWA ANNUAL
SYLVIA WALD & PO KIM GALLERY, NYC
AUDREY HOPE SHIRK AWARD